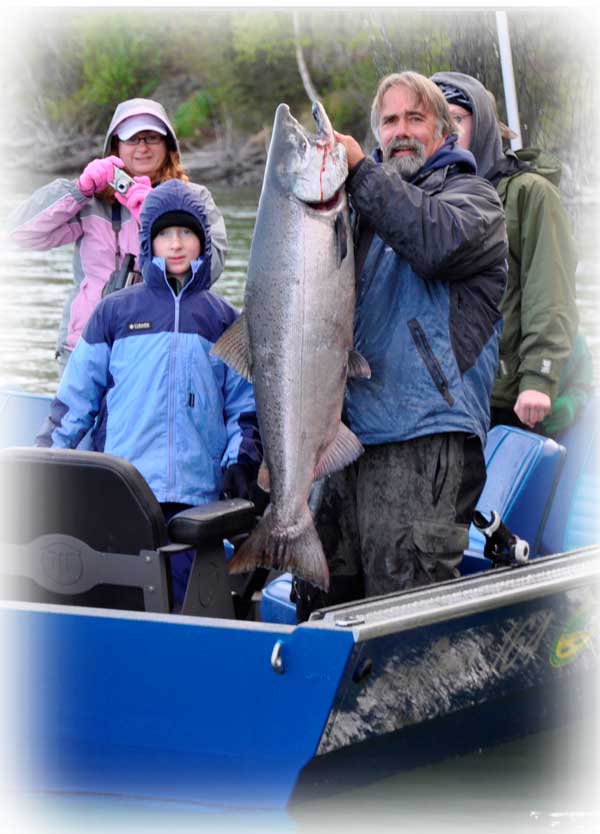 The first run of King Salmon in the Kenai River appears in catchable numbers beginning in early May. Early summer finds the river very low and there are fewer boats and anglers on the water during this time. Although this run is smaller in numbers than the late run, the fewer anglers and shallow water make this a very enjoyable fishery which is quite productive because the fish are more contained in the existing holes and channels. The current world record of 97 pounds 4 ounces was taken by a local angler in mid-May of 1985. There are always trophy size fish taken from this run each season.
The run peaks in mid-June and carries good numbers through the month until we begin to see the July fish showing around the end of June. Regulations require this fishing to begin as an artificial lure only fishery, so we use back-trolling and back-bouncing techniques for these fish from both our power boats and drift boats. With the river clarity and shallow water at this time of year, this technique works very well. Use of bait may be allowed on short notice at any time if Fish & Game determines the run is above average in strength based on fish counts entering the river. In 2003, ADF&G instituted a "slot" limit for early run Kenai Kings. Kings smaller than 44 inches and larger than 55 inches are the only ones able to be kept. All fish over 55 inches in length must be registered with the ADF&G office as soon as possible after catching.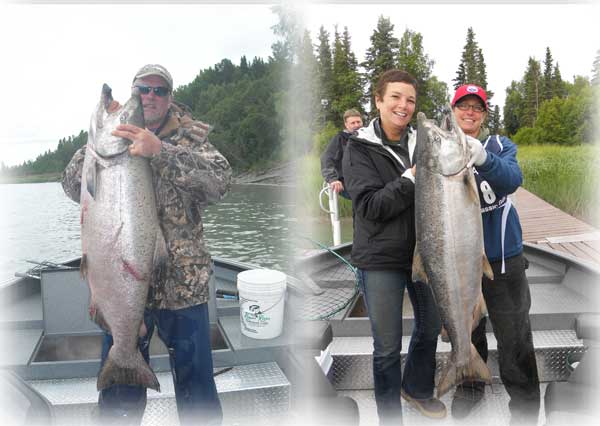 The second run of King Salmon in the Kenai River begins to show around the end of June and overlaps the end of the early run. Quite often we recognize the change-over with chrome-bright fish and increasing sizes in the general catch. This run officially begins July 1st by allowing the use of baits and scents in addition to artificial lures and we will use a variety of offerings to determine what the most effective presentation is. Back-trolling & back-bouncing are used depending on the location and most effective method at the time. This run is significantly larger in numbers than the early run and attracts a large crowd of anglers hoping to land one of these monsters. Since guided fishing is not allowed on Sundays or Mondays for either fish run, the number of days available in July is very limited so booking as early as possible is required. The past several seasons have been very successful and there were many days when fishing was so good it reminded us of the good old days. Boat limits were frequent and many very nice size fish were taken by anglers throughout July.